Family breaks
Landes Chalosse, for a great family holiday
Chalosse, Tursan and its people are delighted to welcome you and share all the highlights of their country with your family, against a backdrop of hilly landscapes and natural splendour.
Located one hour from the Landes coast, and near the Basque Country, you'll discover a perfect family destination with some quality time spent in a uniquely attractive environment. Wander along our family-friendly trails on foot, by bike, on horseback, and discover our fauna and flora.
Continue your visit with an afternoon on the farm, or visit the animal park at the Moulin de Poyaller.
In warm weather, you can go swimming or try one of many water sports at BLake Saucille in Mugron or at the the swimming pool in Hagetmau, which also has lots of other sporting facilities including canoes and kayaks.
If it rains, why not visit our museums, châteaux, and bull rings. The Museum of Chalosse, the Museum of Earthenware and tableware, the Château de Gaujacq, the Archaeology Park at Brassempouy, or the bull ring at Pomarez.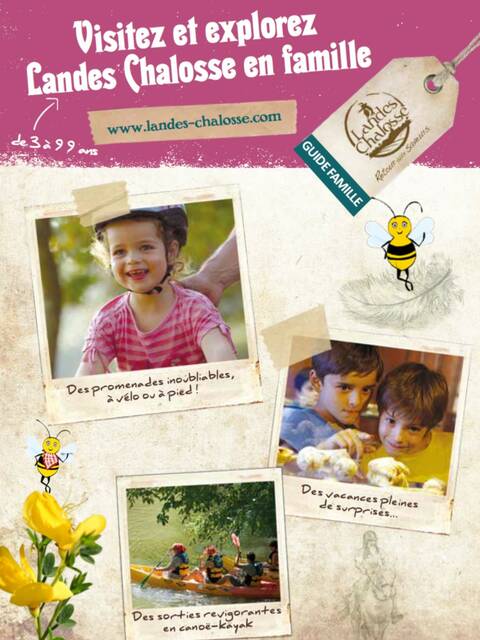 In the evening, join a nocturnal tour of Saint-Sever or the Château de Gaujacq.
Parents and children alike will love the food on offer, with plenty of tasty moments. True to their gourmet reputation, the chefs of Chalosse and Tursan follow their produce from farm to table, allowing you to taste the best local flavours at very reasonable prices. A great opportunity to meet the locals!
Find all the best family attractions by looking for the "bee" symbol. Ask for the entertainment guide at the Tourist Office to enjoy cultural, family and festive activities throughout your stay (festivals, events, etc.) There are three Tourist Office agencies in the area, at Tursan, Terres Chalosse, and Luys.
Download our guide:: Visit and explore Landes Chalosse with the family!