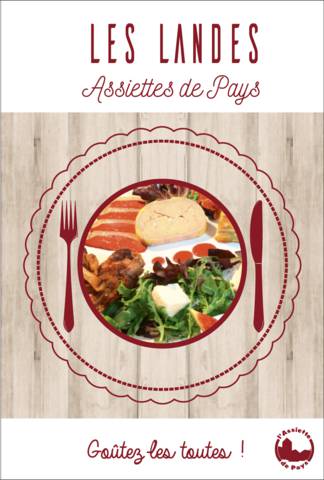 Those « Assiettes du Pays », cooked and composed from farm or traditional local products, are a true concentrate of Landes's flavors.
Always served with a glass of wine or another local drink, they give prominence to traditional salty and sweet recipes.
The origin of each product is identified and you can extend your discovery by going directly to the farms guaranteeing this gastronomy ...
The « Assiettes du Pays » in Landes Chalosse :
- Farm Inn The goddess of gourmets in Cassen (20 €)
- Restaurant Aux Tauzins in Montfort-en-Chalosse (24 €)
- Le Touron restaurant in Saint-Sever - 2 plates (17,50 € and 25 €)
- Restaurant Halco Lakes in Hagetmau (37 €)
- L'Auberge du Laurier restaurant in Saint Cricq Chalosse (23 €)
- Farmhouse Auberge Marquine in Mugron (22 €)